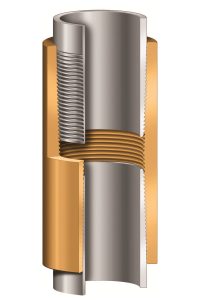 SUPERMAX is tubing connection with avaiable size range from 1.900″ to 4-1/2″
SUPERMAX2 is casing connection with avaiable size range from 5″ to 13-3/8″
Design concept for SUPERMAX and SUPERMAX2
Threaded and coupled connection applied on non-upset plain end
Thread seal connection with unique thread form And thread engagement
Run-out thread with thread form:

2° Load flank For high joint strength
45° Stabbing flank For easy stabbing

Taper: 1/16
Thread pitch: 8TPI SUPERMAX : 8 TPI, SUPERMAX2 : 5 TPI
Pin: Bare
Coupling: Phosphated
SUPERMAX Tubing
Feature of SUPERMAX Tubing
SUPERMAX IS LOW COST ALTERNATIVE TO EUE
Non-upset tubing: SUPERMAX is threaded and coupled type connection which eliminates upsetting and normalizing processes from manufacturing cycle
Easy threading: Short length thread, easy machining and repair provided by patented thread form.
Cheaper accessories: Pup joints, cross-overs at a fraction of the cost compared to EUE.
Extended product life: Elimination of upset ends does not limit number of repairs.
Small coupling OD: Allows use of larger OD tubing than EUE, which improves production of oil & gas and reduces friction loss during well stimulation.
Resistance to galling: Provides multiple make and break capabilities
Applications
Some of the potential applications of SUPERMAX are as follows:
Production tubing where API EUE tubing is normally specified.
Low-pressure gas-well applications where premium connections are currently being used.
Tubing for high-pressure fracturing jobs.
Tubing for thermal applications.
Clearance programs where smaller OD than API EUE is desired but joint strength must be higher than API EUE.
Reclamation of API EUE tubing with insufficient upset length
Options
Special clearance coupling and/or 20° bevel are available.
SUPERMAX2 Casing
Feature of SUPERMAX2 casing
As well known, API round thread has good sealability but low joint strength, but on the other hand API Buttress thread has high joint strength but poor leak resistance.
SUPERMAX2 has joint strength as high as API buttress thread, and has leak resistance as good as API round thread.
Application
Frac. Job through casing, especially deep wells or high temperature wells which require high joint strength on casing.
Modified Coupling with Non-metallic seal
Modified coupling with non-metallic resilient seal to enhance gas sealability for SUPERMAX and SUPERMAX2 is available.